Win an Amazon Tablet by signing up and entering our draw
This competition is now closed.
Have you signed up to Open Portal?
If so enter your details for a chance to win an Amazon Fire HD 10.1 Inch 32GB Wi-Fi Tablet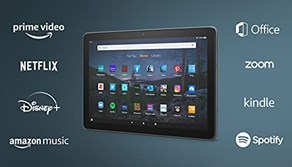 As a thank you for signing up to Open Portal (old and new registered users) we would like to enter you into our prize draw where a lucky person will be selected at random in August, September and October 2022 to win an Amazon Fire HD tablet. 
All you need to do is register an account to manage your details online and enter yourself into our prize draw below.
See our terms and conditions below for further details of the competition. 
Our August winner
Congratulations to Susan Minns from Carterton who signed up to Open Portal, entered our August draw, and was selected at random and receives one of our tablets. Sign up and enter now for a chance to win in our September draw!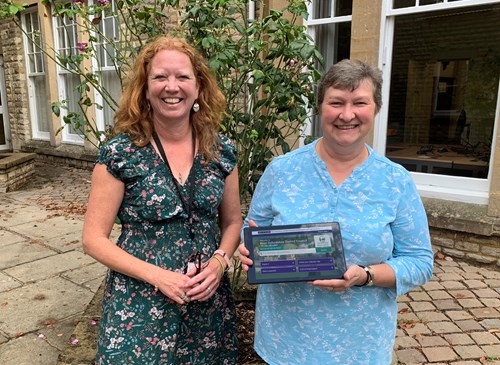 Our September winner
We selected another lucky winner in September, Mr James Miller from the Carterton town parish.  James was again selected at random and received one of our tablets. Sign up and enter now for a chance to win in our October draw!
Our October winner will be drawn and announced very soon.
About Open Portal
Take advantage of accessing your Council Tax or Business Rate account information online at any time.  Also access to make any Benefit claims or adjustments to your circumstances at a time that is convenient to you.  Managing your details online will also help us better process your updates and requests too. 
If you also choose paperless billing when you register, you are helping us to save on printing and sending, which will help with costs - and saving the environment too!  
Register for an Open Portal account
Terms and conditions
This competition is being run by West Oxfordshire District Council
The competition is open to all new and current registered users of the Open Portal system at WODC who actively enter into the competition draw
Entrants must enter the competition by:

Signing up online to use Open Portal online
Filling in the entry form to be part of the draw

If only one part of this 2 stage process is completed (Only registering with Open portal or only filling in the competition entry form) then the user will not qualify to be entered into the draw 
One winner will be selected at random from all entries in August (Entries must be submitted by Wednesday 31 August 23.59pm to be included), one in September (Entries must be submitted by Friday 30 September 23.59pm to be included) and one in October (Entries must be submitted by Monday 31 October 23.59pm to be included) from all users who have both registered with the Portal and entered into the draw. All participants will be included in all draws, so if you enter in August and are not selected you have a chance of winning in September or October.
Only one entry per person/per account is permitted. Multiple entries of the same account will be removed. If you enter in August you do not need to enter again to be included in the September draw.
3 draws will take place and 3 prizes are on offer.
The winner will receive an Amazon Fire HD 10.1 Inch 32GB Wi-Fi tablet (the Council is not responsible for ongoing maintenance, contracts or subscriptions for any device)
The Council does not endorse any Amazon products or their services
The winners of each draw will be notified by email or phone soon after the competitions close/are selected
Details for collection or delivery of the prize will be confirmed with the winner directly
This prize is not transferable to another person
This prize cannot be exchanged for cash or any other prize
West Oxfordshire District Council employees, Publica employees, their immediate family, members and certain stakeholders (tbc) are not eligible to enter
Prizes are subject to availability, and the Council reserves the right to replace the prize with an alternative product of equal or higher value if necessary at the Council discretion
We will contact the winner and plan to publicise their name and locality (village/area) on social media sites and through the press unless they request anonymity when contacted
The Council reserves the right to amend these rules at any time
The Council's decision on any matter concerning the draw will be final
See also
Our competition privacy statement for how we handle your data.